About
The Hull & East Riding Squash Club is a committee led members club, which was founded in 1937 with two courts. As the game grew in popularity so further courts were added, court 3 was built in 1966, then court 4 in 1972.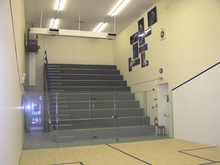 When the boom took place in the early eighties an Exhibition Court, court 5, with seating accommodation for over 100 was built to accommodate the demand for large numbers of spectators to watch matches.
We have five courts in traditional white.
The Club is recognised as one of the foremost in Yorkshire, being a founder member of the Yorkshire League.
The Club has for many years retained the services of a coach, which is one the reasons why it has been so successful over many years, providing players at all levels for the Yorkshire Teams.
We pride ourselves on developing players from young beginners to national level. Coaching is available for new beginners or experienced players from Fiona Moverley.
The club has a very friendly atmosphere as our club coach knows members by their first names and makes sure members are able to enjoy their squash with club nights, mini leagues, summer/ winter leagues and tournaments. We feel sure you will not be disappointed with the standard at the club as it is one of the strongest in Yorkshire.
So if you are looking for a squash club that really caters for squash players come along and try our facilities. We will find you opponents of your standard and you will soon be enjoying being a member of the Hull & East Riding Squash Club.