Hull & East Riding Sport Club
Why not become a member of the Hull and East Riding Social Club? To find out more information on the event and also book the room please visit the website below.
https://www.hersportsclub.co.uk/
Free House selling wide range of beers and soft drinks. Meals and sandwiches at very reasonable prices.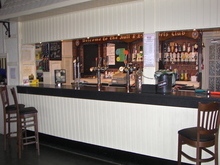 Social Events:- Discos, race nights, party nights, quiz nights.
Watch a football or cricket match
Enjoy a pint
Have a meal or a snack
Enjoy a social function
Watch Sky Sports
Rooms available for hire
Buffets available to order
The club is open Monday to Saturday 9 am to 11 pm and Sunday 9 am to 10 30 pm.
Join Now for only £20 (Senior citizens over 60 £10.00).
Membership is renewed annually and runs from October 1st to September 31st. Reduced fees apply from the 1st of April.
(Membership of the social club is included in Squash Club membership fees.)
To join simply download a membership form and return with your membership fee
The Hull & East Riding Social Club
Chanterlands Avenue North
Hull

East Yorkshire
HU5 4ED
Tel. 01482 342156